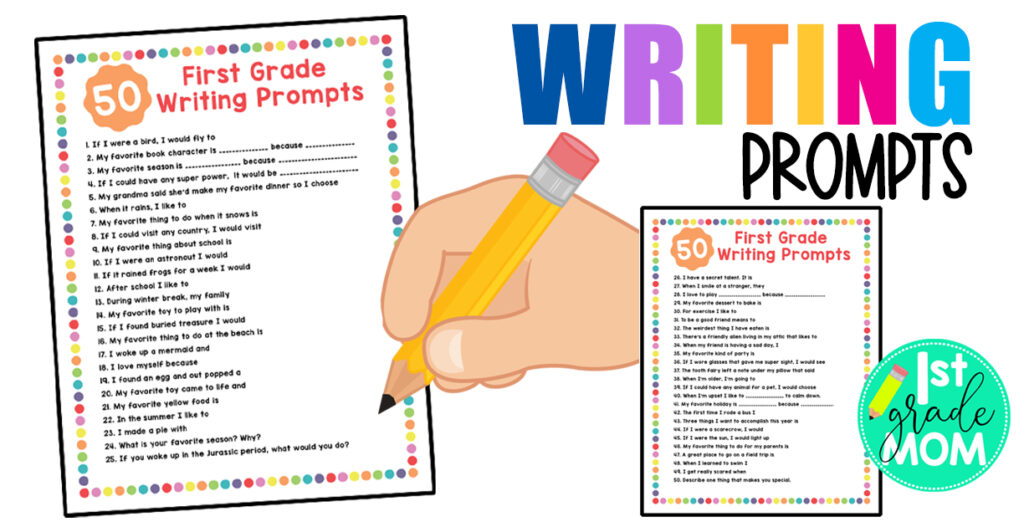 One entire year of weekly writing prompts that are simple and easy to print. 50 first-grade prompts that cover narrative, opinion, expository, and descriptive writing to get the ideas flowing!
First-Grade Journal Writing Prompts
In first grade, children begin to learn for the first time how to communicate their thoughts and ideas through writing. This often comes in the form of stories. However, telling a story off the top of their heads can be difficult for young children, so writing prompts provide a springboard to get the ideas flowing, making the writing process much easier and more fun. We all know that sometimes the hardest thing about writing a story is figuring out what to write about!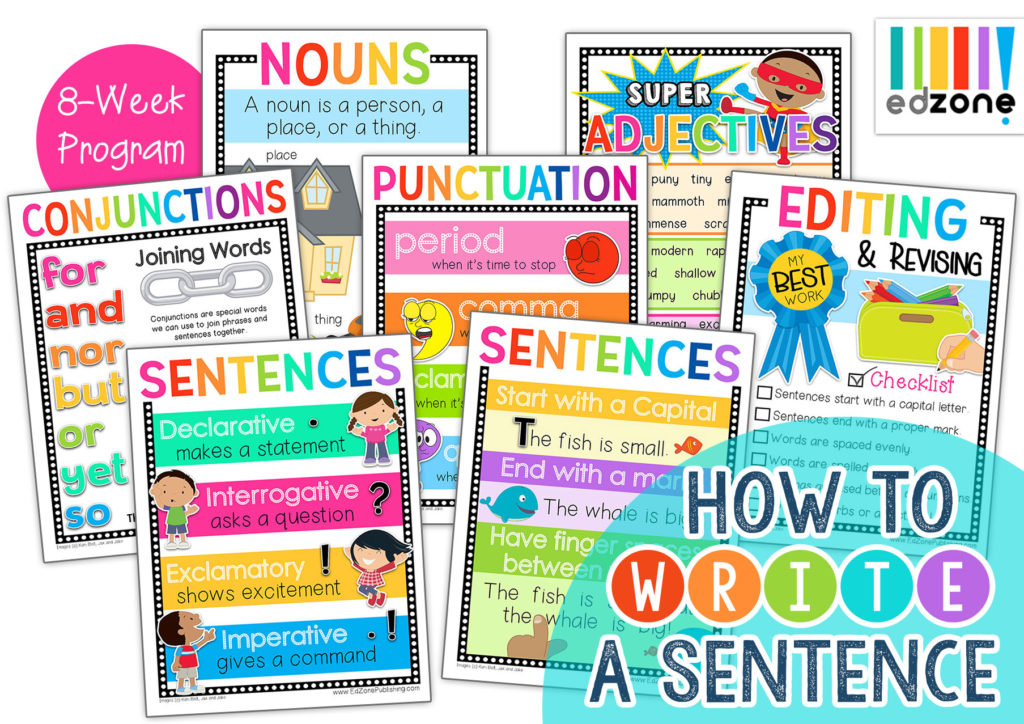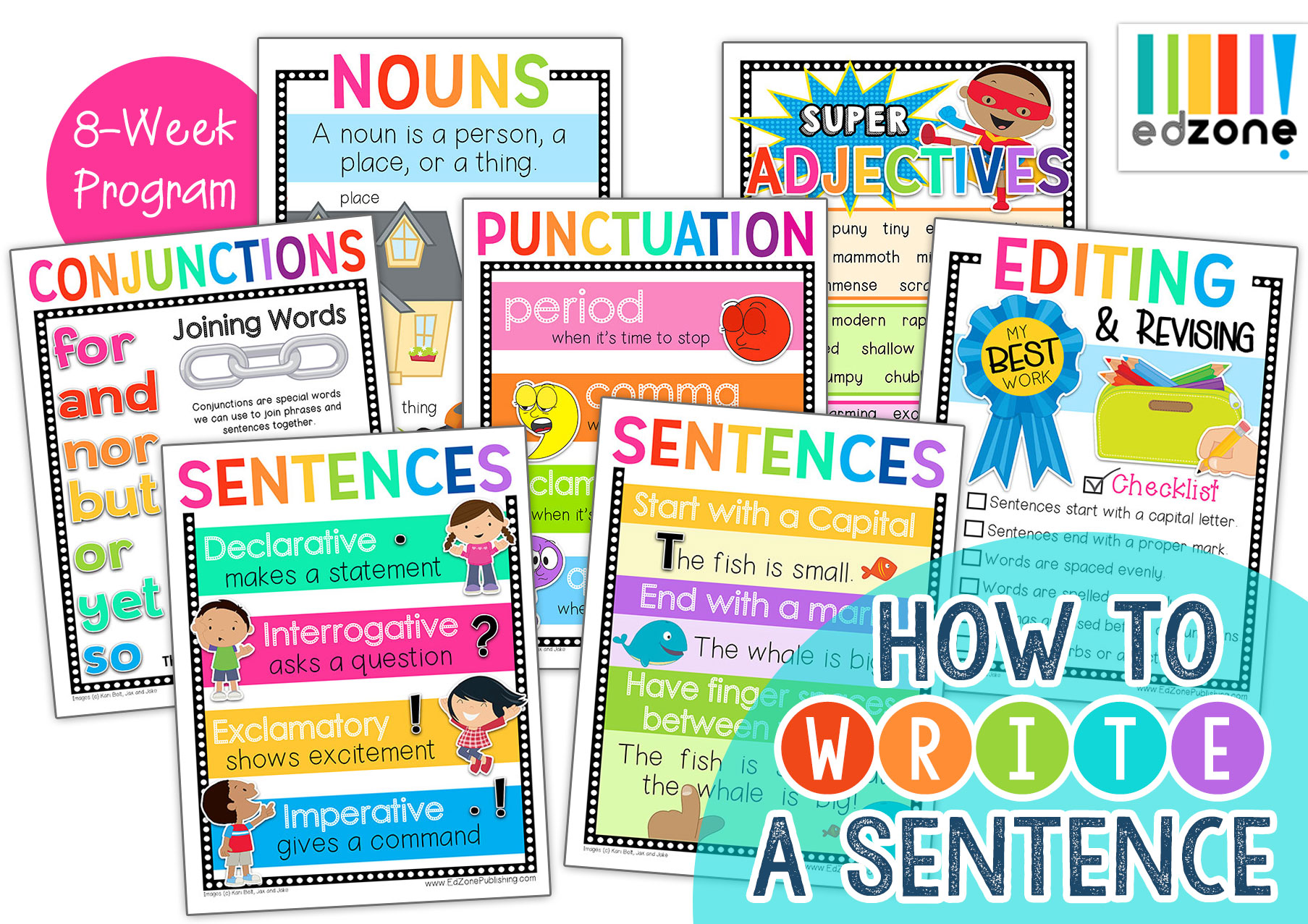 First-Grade Story Starters
First-grade story starters need to be simple enough that any 6- or 7-year-old can finish the thought but not so simple that they merit a short answer. The idea is to get these youngsters to write several sentences at a time, using their imaginations and creativity to share what's inside their heads. The best story starters get the ball rolling and inspire students to build their storylines. Sometimes, silly prompts give rise to the most inventive stories! We've created some of those "best story starters" for FREE for you to use with your first grader. Give them a try, and see what we mean!
50 FREE First Grade Writing Prompts
If I were a bird, I would fly to
My favorite book character is _______________ because _______________
My favorite season is _________________ because ________________________
If I could have any superpower, it would be ________________________
My grandma said she'd make my favorite dinner so I choose
When it rains, I like to
My favorite thing to do when it snows is
If I could visit any country, I would visit
My favorite thing about school is
If I were an astronaut I would
If it rained frogs for a week I would
After school, I like to
During winter break, my family
My favorite toy to play with is
If I found buried treasure I would
My favorite thing to do at the beach is
I woke up a mermaid and
I love myself because
I found an egg and out popped a
My favorite toy came to life and
My favorite yellow food is
In the summer I like to
I made a pie with
What is your favorite season? Why?
If you woke up in the Jurassic period, what would you do?
I have a secret talent. It is
When I smile at a stranger, they
I love to play ____________________ because ___________________.
My favorite dessert to bake is
For exercise, I like to
To be a good friend means to
The weirdest thing I have eaten is
There's a friendly alien living in my attic that likes to
When my friend is having a sad day, I
My favorite kind of party is
If I wore glasses that gave me super sight, I would see
The tooth fairy left a note under my pillow that said
When I'm older, I'm going to
If I could have any animal for a pet, I would choose
When I'm upset I like to __________________ to calm down.
My favorite holiday is __________________ because _______________.
The first time I rode a bus I
Three things I want to accomplish this year are
If I were a scarecrow, I would
If I were the sun, I would light up
My favorite thing to do for my parents is
A great place to go on a field trip is
When I learned to swim, I
I get really scared when
Describe one thing that makes you special.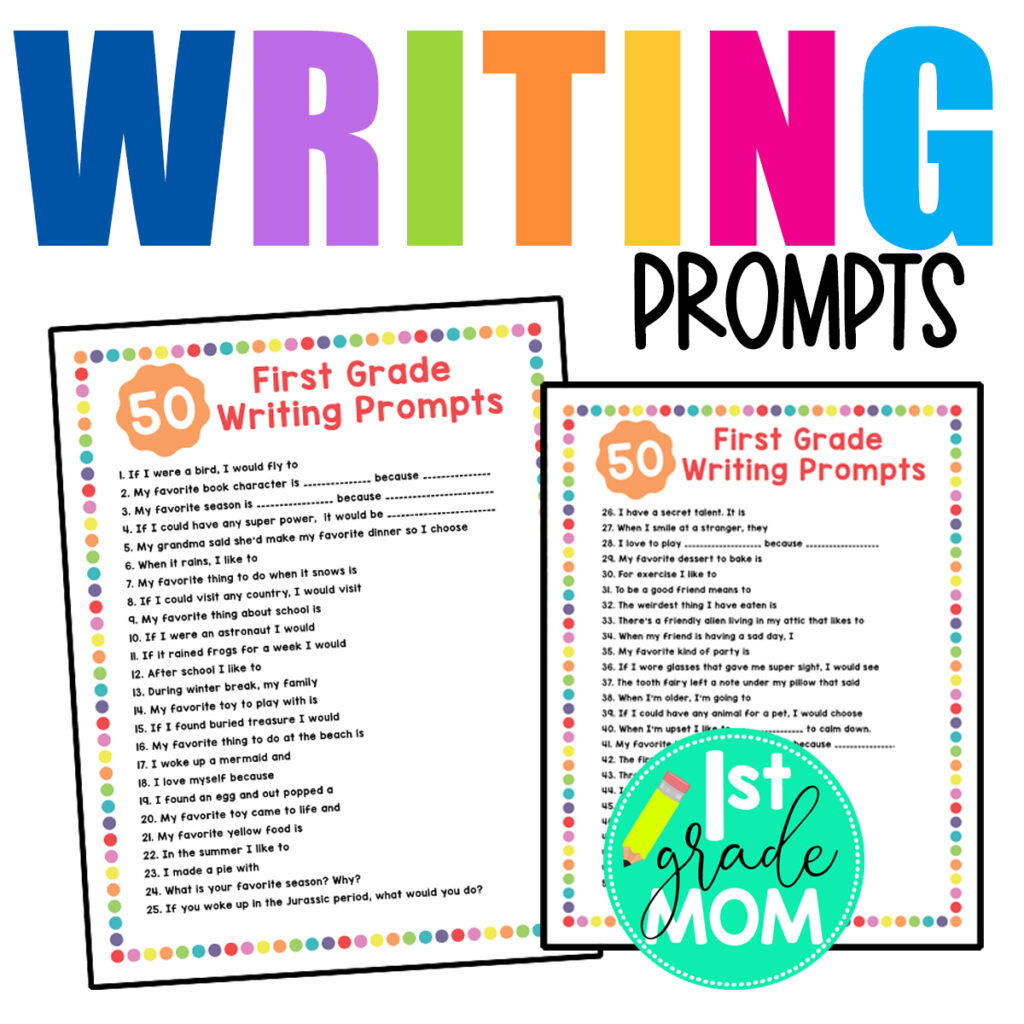 First-Grade Writing Prompts
One year of easy-to-print weekly writing prompts for your first grader, covering expository, narrative, opinion, and descriptive writing.