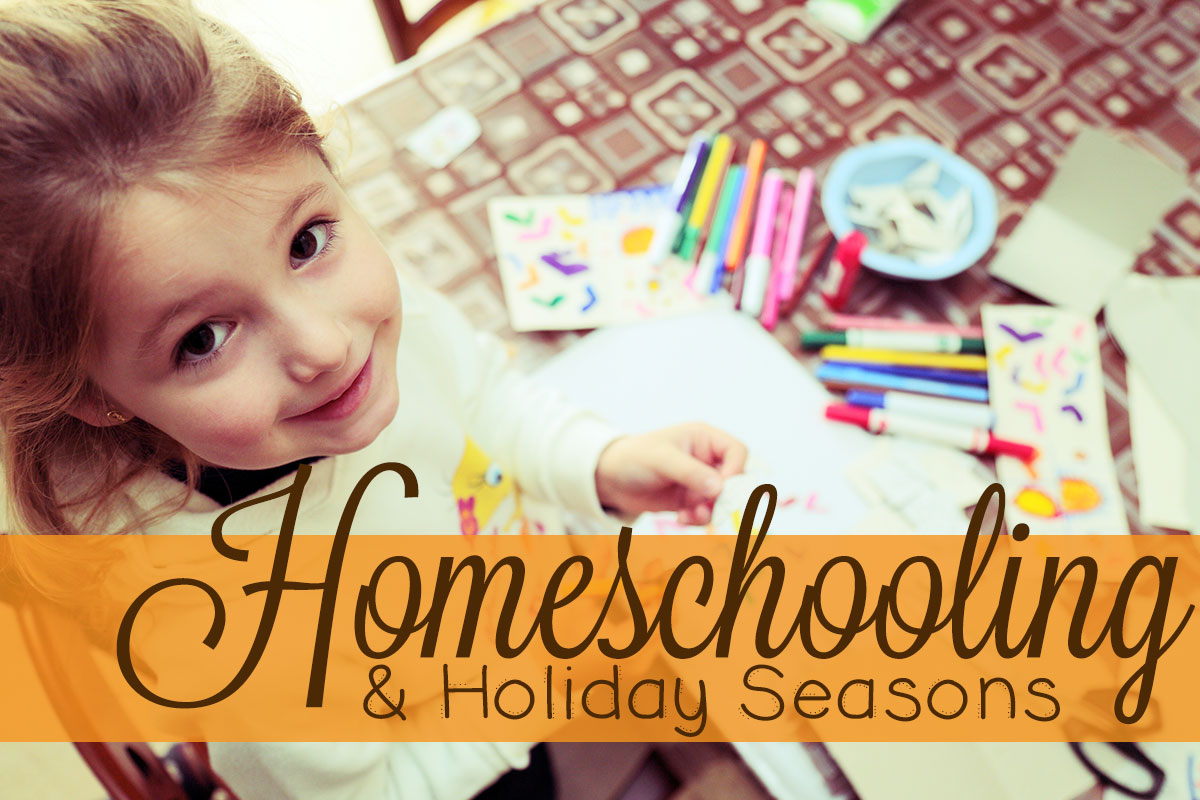 Life can get hectic at any point during the year, but this is especially true during the holidays. While most of these tips are written with Thanksgiving and Christmas in mind, they can apply anytime your school year gets busy.
HINT: If you really want to keep it simple, try out our Thanksgiving and Christmas S.M.A.R.T. Packs.  These give you everything you need for a week of thematic Science, Math, Art, Reading and Take Home Review Work.

1) Learn to say NO.
Volunteer opportunities abound during the Holidays, particularly at church. Homeschooling takes as much time as a fulltime job. Be very cognizant of not putting too much extra on your plate during this busy time. It's okay to just say no.

2) Plan for The Time Off That You Will Need
It's best if you plan for time off during the Holidays before you even begin the school year. Working a vacation into your lesson schedule, will be a major sanity saver. Try your best to make it happen if you can.

3) Work on Your Kid's Favorite Subjects
When kids are dreaming of Santa and sugar plums it will be harder for them to concentrate on their lessons. Getting ahead in favorite subjects can be a fantastic way to make this distractible time work for everyone.

4) Extra Reading Time
Even when your kids aren't in classes, independent reading time is a great way to keep them in learning mode.

5) Play Math and Reading Games
There are plenty of ideas online with learning games for every grade. Put some prep work in the night before and get your kids playing games that will teach them at the same time.

6) Eliminate Non-Essential Chores
If there are any chores you feel comfortable eliminating for a few weeks, do it. There are plenty of nonessential things that can wait until the holidays blow over.

7) Swap sitting or hire a sitter.
Between parties, and Christmas gifts sometimes you just need extra help. If a sitter isn't in your budget consider swapping sitting time with another family.

8) Shop Online
I love getting out of the house and shopping for presents, but let's be honest online shopping can be a huge time saver. When you're trying to homeschool through the holidays Amazon Prime is worth the price.

9) Let Someone Else Host the Party Logistically, sometimes it's easiest to have the family with the biggest family, or smallest baby host the Christmas party. Consider however the amount of time and deep cleaning that will go into hosting your event. If someone else is willing to host, consider letting them.

10) Relax, and Enjoy.
Don't let life get to hectic. Take time to sing, bake cookies, read books. Absorb the season. Get plenty of pictures, and try to remember the smiles for years to come.